Early winter 1953 in front of Bldg. 5. At left: Buck Sgt Phillips who arrived before we did on a transfer to 601ACW from a site at Flensburg on the German/Danish border; and Harman in parka.






Summertime 1954 on the bench at front of Bldg 5. L. to R.: G.C. Polk; Bob Mitchell (Radio Op.); Larry Hill (Supply) and Harman.

Herr Musial, our sweet old janitor in the Comm Barracks/Bldg 4
I remembered that he sang quietly and smiled a lot while working.
He seemed a bit more polished than befit his then occupation

Taken at MSgt Paul F. Buhler's home in Rothwesten Community during Christmas holiday period, 1954. Facing us, G.C. Polk. Behind him in dark shirt and hat is Paul Buhler. The other guy with hat, white shirt and tie is a German friend of Buhler family. I am seated next to Adeline Buhler and her son is playing his Christmas guitar.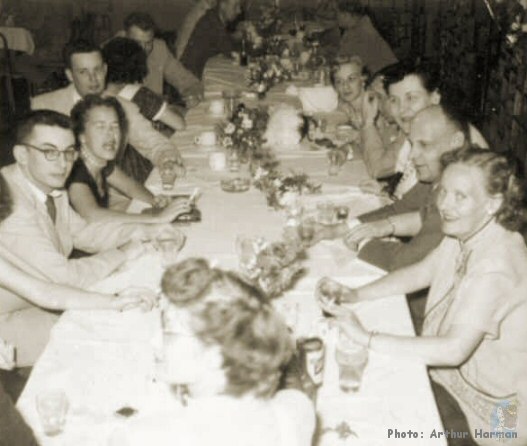 At the far end of the right side of the picture, facing us, is Adeline Buhler; next to her with hand on forehead is Paul Buhler. He was a MSgt with a lot of ribbons on his chest. I am not sure about the dark headed lady, but believe she is the wife of the first Sgt, beginning to bald. He replaced Albert Metras as 1st Sgt. The lady on the right in the foreground, I believe, was the wife of a TSgt who worked in the Dispensary. On the left side, all the way to the rear was a SSgt from 3rd Shoran. Then, facing, a SSgt who worked in Opns. He came from a mormon family. I believe it his wife who is sitting between him and me.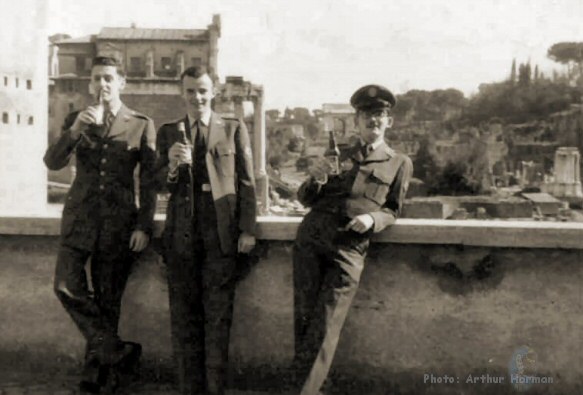 Rome, March 1954. Capt Harriman and Capt.Schremp flew a C-47 out of Rhein Main, down across Marseilles France to avoid the Alps, to Ciampino Airport just S. of Rome, taking the three GI's pictured here. Ancient Rome and the Arch of Titus in the background. left to right: Buck Sgt's Carpenter (comm clerk); Quyle (pronounced like "while" with a "Q" in front of it); and yours truly. All drinking Perroni beer. We had just gotten out of one of the horse drawn carriages in which we'd enjoyed a tour around the tourist spots.