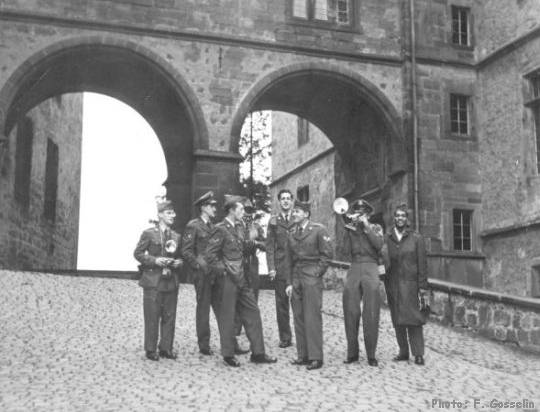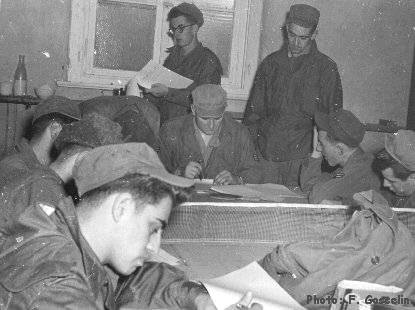 Remember in the first page of the Old Friends section where we were marching in a German village and posing for a group picture?
We were in driving school. In this picture we are taking the exam. A European drivers license was the result.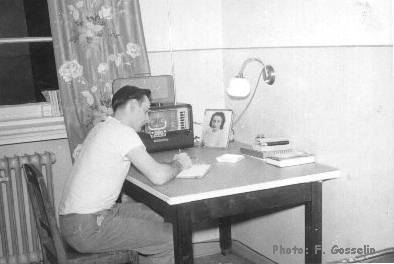 Harvey Syde (standing in the doorway) was at Wasserkuppe from January till December of 1946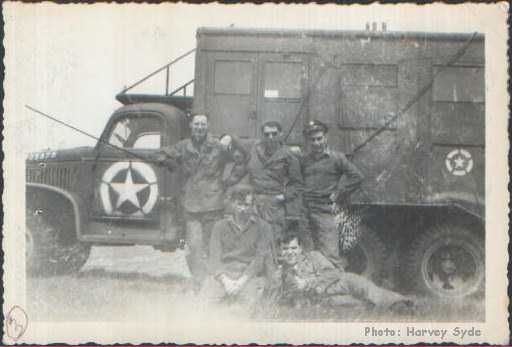 Harvey Syde wrote:
"I am in the front row kneeling. Next to me is Jim Papas. Top row with the Garrison cap is Ralph
Reyes. Sorry the other 2 I don't remember their names."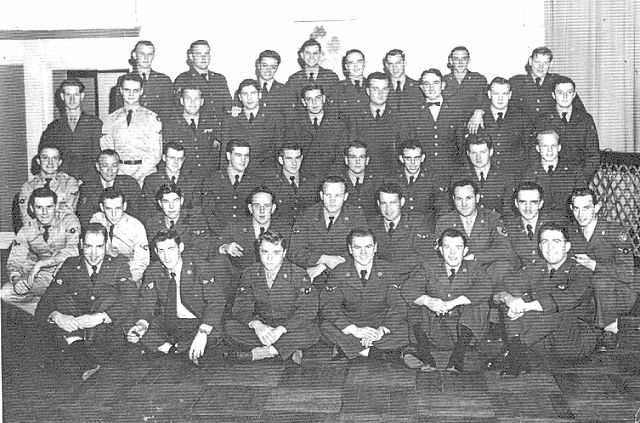 This one contributed by Gerald Davidson.
Taken in June or July of 1951 at the EM club Rothwesten.
Some of the fellows in the photo had been there helping control Red 10
during the Berlin Airlift.
Internet Explorer users can place the mouse cursor over each one and see his name.
Front row, left to right:William H. Evans, Jr., Wilmer Savana, John R. Vanholt, Roland J. Goulet, Buston E. Baird, Dwain A. Mason
2nd row: Joe R. Barkley, Charles L. Cox, Lilly M. Cobiness, Thomas E. Miller, D.L. Deglow, George E. Cunningham, Joaquin D. Trevize, George A. Reggie, Roger E. Boike
3rd row: Marvin C. Crowe, N. Robbins, Gerald F. Carson, Willis F. Cavanagh, Kent D. Buchanan, Mason B. Jones, Jr., Donald P. Williams, Harry J. Gergely, Mack C. McDaniels
4th row: Lyndal D. Willard, Donald L. Brown, John E. Cox, Sam Farrainola, Vincent A. Perricane, Ted F. Riedel, Jack R. Wilmarth, Robert A. Schowengerdt, William F. Drew
5th row: Richard R. Humbert, Richard D. West, Leonard W. Pucci, Charles I. Goffredo, Gerald R. Davidson, Jim Downing, Paul N. Hillman, Robert Thomits