Detachment 3/6 Reunion 2000 in Nashville
The following information and photos were contributed by Al Gerek.
This is the list of folks who attended our mini reunion in Nashville May 4-7, 2000. Det #3 from Rothwesten had moved to RAF Celle and became Det #6. All of these former buddies were either at Rothwesten or RAF Celle.

Ed and Helen Abbott Ray and Erna Carson Al and Helene Gerek
Jerry and Rosie Hicks Mike and Barbara Lehman Harlan and Darlene Thielke
Mack and Etta Traylor Steve and Sylvia Weber Bob and Ida West
Joe Clinard Ray Oshima Bob Paich
Randy Rankin

Photos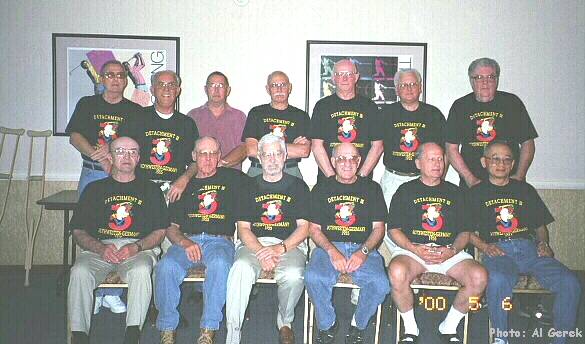 The nice shirts were the courtesty of Mike Lehman. Mike had kept his Det #3 jacket for 45 years and had these nice shirts made for our group.


Sitting, left To right: Harlan(Stub) Thielke, Mike Lehman, Bob Paich, Al Gerek, Ray Carson and Ray Oshima.
Standing: Steve Weber, Randy Rankin, Jerry Hicks, Mack Traylor, Ed Abbott, Joe Clinard and Bob West


















Left to right: Ray Oshima (back to camera), Bob West, Ray Carson (back to camera) and Stub Thiekle.



Bob West was our Commander at Rothwesten and when we moved to RAF Celle in Nov., 1956 he became our first Commander at Celle.
Some of the wives at breakfast, telling war stories.
Left to right: Darlene Thielke Barbara Lehman Helen Abbott and Erna Carson.
In background: Rose Marie Hicks, Helene Gerek and Sylvia Weber.


These three ladies were resting their weary bones during a tour of the Grand Opry Hotel in Nashville May 6, 2000.
Left to right: Erna Carson, Helene Gerek and Sylvia Weber.


Checking out ole Photos from 1954 -1958. Left to Right: Stub Thielke, Ed Abbott, Joe Clinard (back
to camera), Bob Paich, Mack Traylor and Mike Lehman.