I believe that anyone devoted to parents, grandparents, etc. as is Silvia, is deserving of our help.
Her quest is best described by her email to me on October 18, 2005. For security reasons, I will not divulge her last name as she requested.


Dear Willie Hanson,
My name is Silvia. I'm 28 years old. I'm from Germany. I live in Ahnatal which is very close to Fuldatal Simmershausen and Rothwesten. My grandmother lives in Simmershausen.
Several years ago, I sent you an e-mail in hoping to find some old friends of my grandfather, Johann (Hans) Oschietzki. He is German. My grandfather allways was eager to find some of his old buddies. Years went by, my beloved grandfather died in 2000 because of cancer. Nevertheless, I'm still looking for some old friends of his. Hopefully they can tell me something about my grandpa and maybe have some pictures of him.
My grandfather was a prisoner after the war and had the luck to work at the Fliegerhorst Air Base in Rothwesten as a mechanic. Later on, it was his job to take care of the bowling alley on this Air Base. I found some pictures of that time which I'll send you.
Willie, it would be very kind of you to put these pictures on your website. Maybe someone will recognize my grandpa and his friends?
Thank you ever so much! Kind, regards, Silvia

Silvia:
"My grandfather told me that he was actually a prisoner but that the many guys on the air base were just like best friends. He was at Fliegerhorst Air Base since 1948-55. During that time he worked in another private workstation (repairing cars) outside the base. He returned to the base where he repaired cars and later became the manager of the bowling lane."
Following are some names he remembers:
Sgt. Alfred Haddad (he had the craftshop on the base), MSgt Spiess (not sure of spelling)
Cook, Archie Culverson, Maj. Harold Moody, Oral Cagle, Morton Farbman (knew him very well)
Donald Klaczynski, William-Dottie Silvertooth, Paul Freyman, Gary Harper."

Grandpa is the second guy from the right side

Grandpa is the guy in the middle

This picture is in the area of the Air Base. Grandpa is the first guy on the right side.

Grandpa is the one bowling

My grandpa is the second guy from the right side.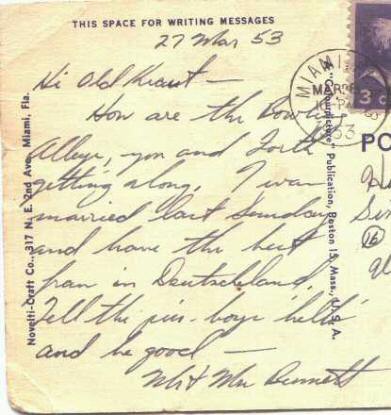 My grandpa often spoke of a guy called "Bennett". Mr Bennett wrote a postcard to my father in 1953. Bennett married in 1953 in Miami Florida. They must have been close friends. I also scanned the postcard and the lines Mr Bennett wrote.
"Hi old Kraut-How are the Bowling Alley, you and Ze.... getting along. I was married last Sunday and have the ........than in Deutschland. Tell the pin-boys hello and be good-.....Bennett
Please put this card on your website, too, if possible. Maybe Mr Bennett, his wife, or his children are out there somewhere. Thanks!
If you have any knowledge of Silvia's grandfather (Hans Oschietzki) click here and share it with Silvia.