An old acquaintance of mine, Tom Tidwell sent the following. The comments are his.
The graduation picture will also be in the Do you know these people section along with the others.


Graduating class at Keesler.
I am in the back row, 2nd from left.
The only other one I can identify is Roger Gleason back row, extreme right.

Picture of me in front of a building at Rothwesten in 1955. Could be the mess hall.
Someone I don't recognize behind me.

Taken of me at Pforzheim outside the Comm. Center in 1955.
We all had to take turns running the telephone and an old Siemens teletype system. Al Kitchens was the Crypto Opertator and Bob Reardon was another Radio Op there at the same time.
I later ran the Amateur Radio Station AJ3BX and a guy by the name of Millsap was a radio tech.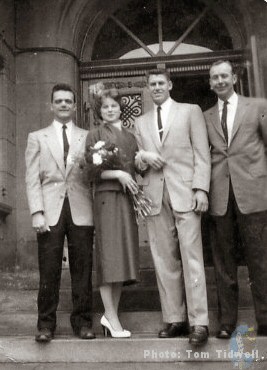 On my wedding day in 1956 outside the Pforzheim City Hall.
The gentleman next to my wife, Regina is Jim Valentine.
The other good friend next to me is Gerald Stratman.










3rd shoran on Maneuvers in 1954 before our trip to Morocco; At a rest stop along the way.
I am 4th from the front end and Roger Gleason is almost to the end with the cap pushed back on his head.
Someone is petting our dog Baron.

From the top:
Tom Tidwell, Dick Grue and Jim Mutt.